Barber's Blueprint
NYC Barber Shop
Barber's Blueprint brings back the golden era of luxury gentlemen's barbershops in NYC. With vintage leather chairs. Cigars. Bourbon & Jazz echoing through out the brick walls. With each haircut being uniquely tailored just for you and your lifestyle. Our barbers are true artists in their field and take great pride in their craft. It's that Barber's Blueprint gold standard to excellence seal with every haircut that continues to set us apart from the rest. Barber's Blueprint curated an environment that is true to the core values of what a real NYC barber shop culture should be… Classic, Masculine, innovative.
For a truly New York experience then try our famous Blueprint Signature Shave. Which we expertly crafted & created just for our clients and our salon. Followed by a shot of good old warm whisky & if the mood strikes you, sit outside with a smooth cigar and really feel like a true King of New York. You'll be singing "I'm in a New York State of mind,,," in no time.
"Barber's Blueprint is quintessential New York."
Barber's Blueprint is located at the crossroads of Little Italy, Soho and Nolita. It is convenient to Tribeca and the Lower East Side.
By Subway, Barber's Blueprint is within close walking distance of the 6 train (Sprint Street), the N&R (Prince Street) and the B, D and F trains (Broadway Layafette).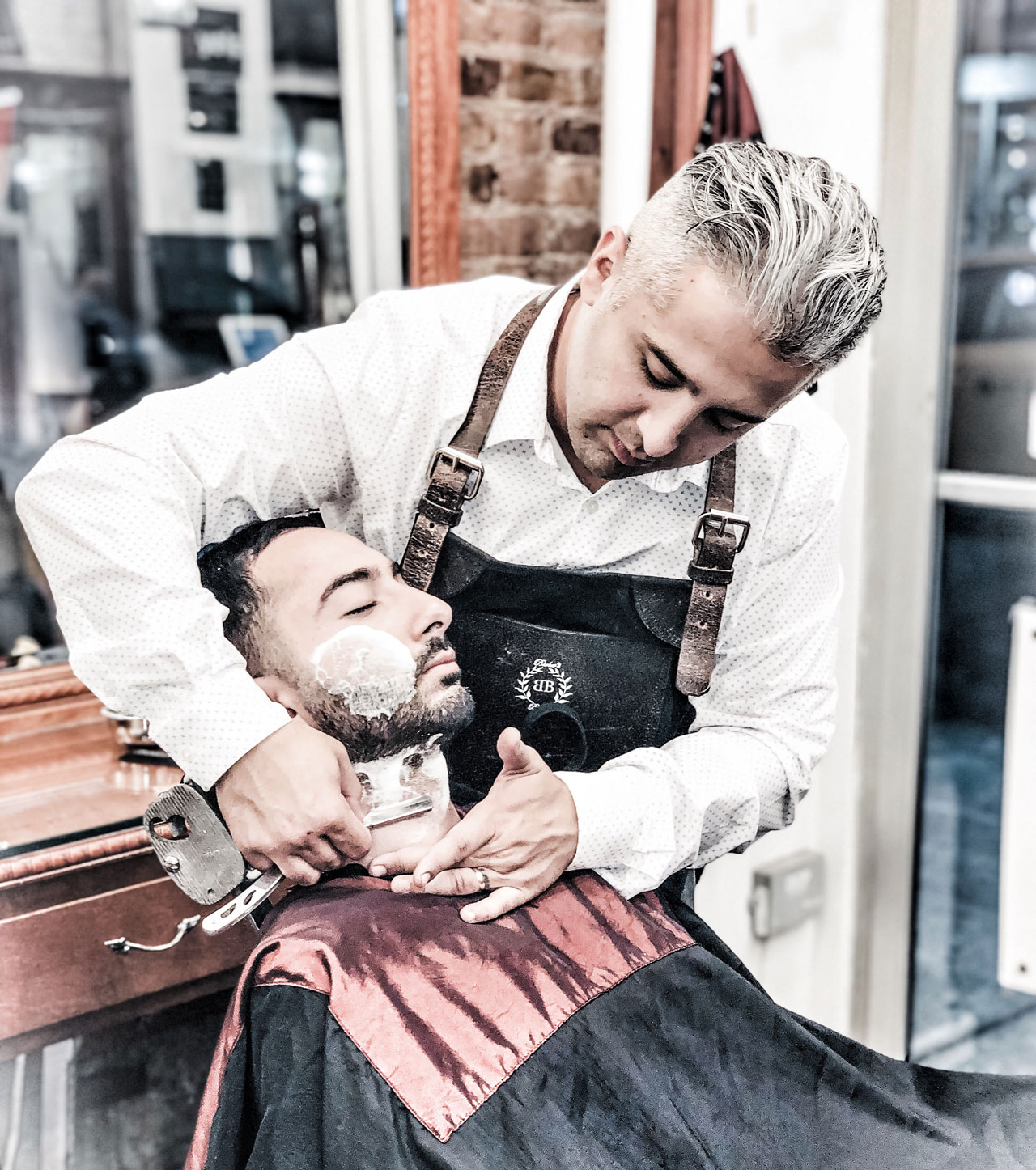 "I've tried desperately to find a down to earth place that will do a hot shave and a haircut for a reasonable price. This is the place. The atmosphere is great, they ask all the right questions, and then get to work. Best hot shave I've had in quite some time. [snip] For less $$ and a better shave, come here." – Christian T. on Yelp

"Great place, I was initially concerned of a traditional barbershop chop, because I have long hair. I've typically overpayed at salons charging me $50-$100 dollars. I paid 25 tip included and received as good of a cut as I have anywhere else in Soho" – Scott C. on Yelp
"Finally, an honest haircut These guys are great. For a decent price, you get a highly competent haircut. I'm sick and tired of going into salons and getting shampoo, conditioner but a terrible cut. Alternately, I end up going to old school barbers only to come out like I joined the army. Arthur knows you need to look good, whether you work at a bank or need to look good for a night out clubbing.